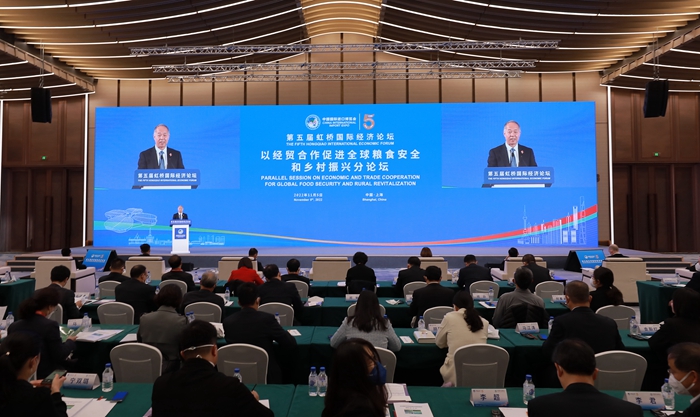 The Parallel Session on Economic and Trade Cooperation for Global Food Security and Rural Revitalization of the 5th Hongqiao International Economic Forum was held in Shanghai on Nov. 5, 2022. Ma Youxiang, Vice Minister of the Ministry of Agriculture and Rural Affairs (MARA), attended the session and delivered a keynote speech.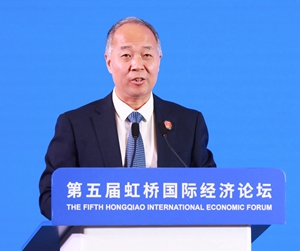 Vice Minister Ma pointed out that the 20th CPC National Congress has drawn a blueprint for Chinese modernization, set the major task of building up China's agricultural strength, and clarified the direction for China's agricultural and rural modernization in the new era and on the new journey. The Chinese government attaches great importance to food security and rural revitalization. To ensure food self-sufficiency for 1.4 billion Chinese people, China has significantly enhanced its food production capacity, with its annual grain output above 650 million metric tons for seven consecutive years. China has won the tough battle of poverty alleviation by historically solving the problem of absolute poverty, thus contributing a lot to the global poverty reduction cause. China has made new breakthroughs in agricultural and rural modernization, given full play to its crucial "ballast" role in safeguarding national food security, and greatly improved Chinese farmers' sense of fulfillment and happiness.
Vice Minister Ma stressed that global food security and rural development are facing new problems, as the world is entering another round of turbulence and transformation. China is committed to doing its own things well by continuously boosting agricultural trade and deepening cooperation and investment. China is adhered to upholding humanitarianism and multilateralism by promoting food security and rural revitalization through high-level economic and trade cooperation, and sharing development opportunities with the world. MARA will earnestly implement the spirit of the 20th CPC National Congress, and work with all sides to achieve high-level economic and trade cooperation in agriculture. MARA will strengthen dialogue and coordination to create a favorable global environment, and boost economic and trade cooperation to safeguard the resilience of the industrial and supply chains. More efforts will be put in to enhance cooperation on innovation and development, so as to foster new drivers for agriculture and rural areas, and promote global sustainable development.
The parallel session was co-hosted by the Ministry of Commerce (MOFCOM) and MARA. Vice Minister of MOFCOM Guo Tingting, Ambassador of Ireland to China Ann Derwin, Secretary of Agriculture, Livestock and Fisheries of Argentina Juan José Bahillo, and Vice Chairman of the Ningxia Hui Autonomous Region Committee of the Chinese People's Political Consultative Conference Wang Ziyun, attended the session and delivered remarks. Diplomatic envoys of some countries, representatives of relevant research institutes, financial institutions, industry associations, agriculture-related multinational companies, local agricultural and rural affairs commissions, as well as the Center for High-quality Development of International Agricultural Trade also participated in the event.