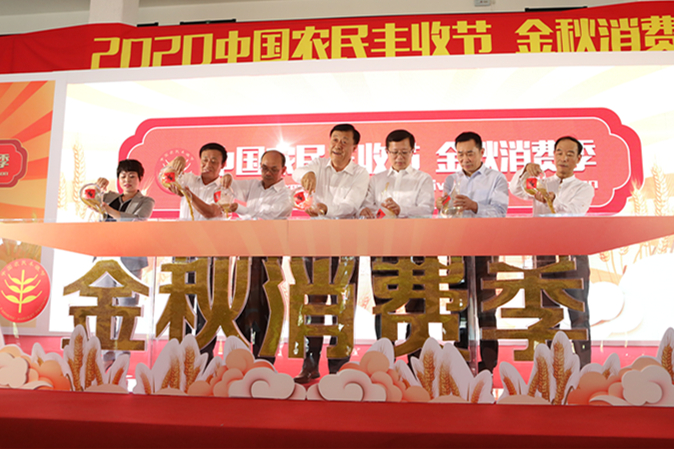 The 2020 Chinese Farmers' Harvest Festival Autumn Consumption Season, jointly sponsored by the Ministry of Agriculture and Rural Affairs (MARA), China Media Group (CMG) and the All China Federation of Supply and Marketing Cooperatives (ACFSMC), kicked off in Beijing on September 7. Yu Kangzhen, Vice Minister of Agriculture and Rural Affairs, Jiang Xiwei, CMG Deputy Director, and Zou Tianjing, Deputy Director of the ACFSMC Council, launched the event together with three farmer representatives.   
As a major national event of this year's Harvest Festival, the Autumn Consumption Season comprises a series of activities that will continue until late November. The event aims to boost the consumption of quality agricultural produce, promote the visibility of agricultural brands, upgrade of rural industries so as to inject vitality into rural economic and social development. To this end, innovative online and offline marketing tools will be used to attract target audience. More than 130 regional agricultural brands – most of them from poverty-stricken areas – will market their products.  
Following the launching ceremony, the News New Media Center and Agricultural and Rural Program Center under the CMG jointly broadcast the first live stream e-commerce program of the Consumption Season, called "Celebrate the Harvest and Buy Now". From September to November, CMG, together with the MARA and ACFSMC, will also organize 12 live broadcast sessions.  
At the launching ceremony, the National Public Service Alliance for Live Video Streaming of Agricultural Produce was officially established. The Alliance is composed of industry associations, e-commerce platforms, and leading businesses, among others. It aims to pool together live short-video streaming resources and turn them into more organized, scalable and standardized platforms so as to better bridge producers and buyers.
Relevant Annexes: