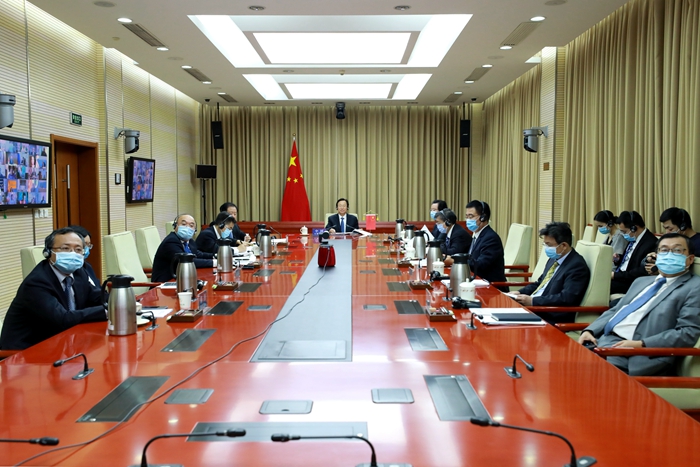 The G20 Agriculture and Water Ministers held a virtual meeting on Sept. 12. Minister of Agriculture and Rural Affairs of China Han Changfu attended the meeting and delivered a speech.He pointed out that the Chinese government attaches great importance to food production and has taken extraordinary measures to alleviate the impacts of the COVID-19 pandemic and major natural disasters. China sees its summer grain output hitting a record high, and expects a bumper autumn harvest as autumn grain is generally growing well.
Minister Han said the COVID-19 pandemic is still wreaking havoc around the world and causing disruption to global food trade and supply chains. He said the G20, a major agricultural producer and important leading force, has the responsibility to join hands and safeguard global food security and stabilize the agricultural sector. He put forward three proposals: 1)Work together to increase global food production. To this end, G20 members should further assist less developed countries and regions in terms of seeds, pesticides, fertilizers and agricultural machinery, encourage the adoption of appropriate modern agricultural technologies, step up efforts in the construction of farmland water conservancy projects, and develop water-saving agriculture. 2) Work together to expand cooperation in agricultural investment and trade. Remove export restrictions on food and key agricultural products and ensure the unfettered flow of these products. Promote responsible investment in agriculture and food systems.Support the Food and Agriculture Organization of the United Nations (FAO), the United Nations World Food Programme (WFP) and other relevant international organizations to play an active role in keeping food supply chains functioning. 3) Work together to reduce food loss and waste. For example, efforts should be made to better coordinate policies on reduction of food loss and waste, and develop and promote relevant technologies, standards and facilities so as to minimize loss in food harvesting, storage, transportation, and processing. G20 members should help societies to develop food-saving habits, and call upon citizens to cherish food and reduce food waste at the dining table.
The meeting, which is the second virtual ministerial meeting held by the agricultural sector since the G20 Extraordinary Agriculture Ministers Meeting on COVID-19 on April 21,highlighted the importance of stabilizing the agricultural sector in the face of risks and challenges. The meeting was organized by the current chair of the G20, Saudi Arabia, and was hosted by Abdulrahman Al-Fadley, Minister of Environment, Water and Agriculture of Saudi Arabia. Agriculture and Water Ministers of the G20 members and guest countries, as well as heads of FAO, the World Health Organization (WHO) and other international organizations, attended the meeting to discuss the response to COVID-19, food investment and cooperation, reduction of food loss and waste, water management, and so forth.
Tang Huajun, Dean of the Chinese Academy of Agricultural Sciences, Guang Defu, Chief Agronomist of MARA, Wei Baigang, Chief Economist of MARA, and delegates from the Ministry of Foreign Affairs and the Ministry of Water Resources also attended the meeting.
(Photo by Tang Hongli, MARA website)