The Director-General of MARA Foreign Economic Cooperation Center (FECC) Zhang Lubiao delivered a keynote speech on "Creating Models for China-EU Cooperation in Digital Agriculture" on June 20, 2022 at the Dialogue on China-EU Cooperation 2022 held in Beijing.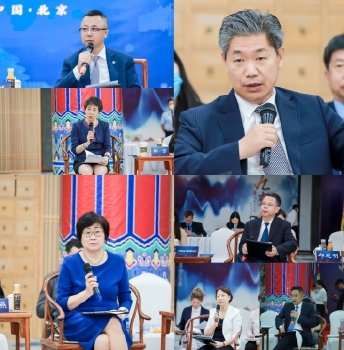 FECC Director-General Zhang Lubiao noted that Minister Tang Renjian and European Commissioner for Agriculture reached important consensus on furthering China-EU cooperation on sustainable agriculture at a virtual meeting in September 2021, which laid a solid foundation for strengthening China-EU agricultural cooperation. In recent years, China and the EU have had frequent exchanges on policy and regulation, agricultural S&T, and geographical indication, and have maintained effective communication under multilateral frameworks such as the United Nations system and the G20. China-EU cooperation in agricultural economy and trade maintains sound momentum.
Director-General Zhang Lubiao introduced progress by the FECC in promoting foreign agricultural cooperation and reiterated that the FECC is willing to communicate with all parties to strengthen coordination, play a bigger role in deepening China-EU agricultural cooperation, and continuously create models for China-EU cooperation in digital agriculture.
To this end, he made three proposals: 1) Priority shall be given to forging mechanisms, seeking new areas of cooperation and engaging more partners by leveraging the Sino-German Agricultural Centre. 2) China and the EU shall share resource in digital agriculture, making the best of resources of different parties and facilitating the application of outcomes achieved in bilateral exchanges in agricultural projects and practical production. 3) China-EU agricultural cooperation shall seek mutual benefit and win-win results by carrying out projects and organizing various agricultural investment and promotion events. Zhang's speech received positive response.
The Dialogue was organized by the European Union Working Committee of the China-Europe Association for Technical and Economic Cooperation (CEATEC).