Vice Minister Ma Youxiang met with Abdulrahman bin Ahmed Al-Harbi, the newly appointed Ambassador of the Kingdom of Saudi Arabia to China, in Beijing on Sept. 9, 2022.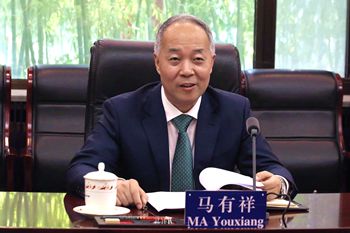 Vice Minister Ma Youxiang stated that China and Saudi Arabia have had sound cooperation in agriculture with growing agricultural trade, which has brought benefits to the two peoples. It is in the interests of both countries to intensify bilateral agricultural cooperation. He proposed that China and Saudi Arabia should further improve agricultural cooperation mechanisms, and carry out the exchanges and cooperation in food security, farmland governance, and green agricultural development, among others. The two sides should also work together to increase respective capacity of the agricultural sector to adapt to climate change and promote sustainable development in agriculture, playing a greater role in regional and global food security.
Ambassador Al-Harbi commended the achievements in bilateral agricultural cooperation over the years, expressing the willingness to work with China to expand areas of cooperation and promote agricultural development in both countries.