The session on Cooperation for Development: Global Agricultural Trade and Rural Revitalization was held in Shanghai on Nov. 5, 2021. It is one of parallel sessions under the 4th Hongqiao International Economic Forum.
Vice Minister Ma Youxiang delivered a keynote speech. Ren Hongbin, Vice Minister of the Ministry of Commerce (MOFCOM), and Zhou Hanmin, Vice Chairman of the Shanghai Committee of the Chinese People's Political Consultative Conference, attended the session and delivered remarks.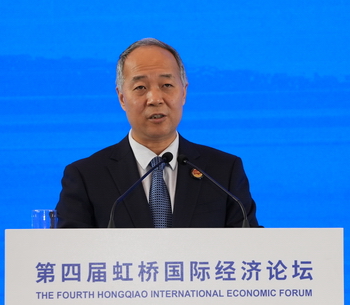 Vice Minister Ma stated that the parallel session on agriculture was the first of its kind held under the Hongqiao International Economic Forum. The session provided an important platform for the political community, academia, and industry from both home and abroad to exchange views on promoting global agricultural trade and rural revitalization in China. Agricultural trade is an integral part of economic and trade cooperation, while rural revitalization is a major task in economic and social progress. At present, the COVID-19 pandemic is taking a heavy toll on global agricultural trade, causing disrupted trade, market volatility, and rising trade barriers. Countries need to work together to promote a stable industrial chain, keep supply chains flowing, push for the transformation and upgrading of agricultural trade, enhance policy dialogue, and improve trade liberalization and facilitation.
Vice Minister Ma reiterated that food security, climate change, and green transformation are common challenges for agricultural and rural development worldwide. China is willing to work with other countries to cope with these challenges, and realize the goals of "zero hunger" and "zero poverty" at an early date.
Ma made the following suggestions: 1) Boost cooperation in food security by assisting developing countries to increase comprehensive grain productivity, and conduct research and exchanges on reducing food loss; 2) Boost cooperation in green agriculture by strengthening exchanges in low-carbon production, farmland protection, and rural environment; 3) Boost cooperation in S&T innovation by promoting research on and application of cutting-edge S&T; and 4) Enhance policy dialogue and people-to-people exchanges, push for mutual learning of rural development concepts and models, and conserve and promote agricultural culture.
The sub-forum was co-hosted by the MARA, MOFCOM, and the Shanghai Municipal People's Government. The Italian and Argentinian ambassadors to China, representatives from some countries' embassies and consulates in China, experts and scholars, representatives from multinational companies and associations participated in the session.