The Symposium on Lancang-Mekong Cooperation in Agro-product Quality and Food Safety was successfully held on April 26, featuring both online and offline events. It was co-hosted by Department of International Cooperation of the Ministry of Agricultural and Rural Affairs (MARA) and the Representation Office of the Food and Agriculture Organization of the United Nations (FAO) in China, and was organized by the Foreign Economic Cooperation Center (FECC) of MARA.
More than 100 people attended the symposium, including representatives from Mekong River countries; international organizations such as FAO, the World Food Programme and the Asian Development Bank; competent government authorities such as Department of Asian Affairs of the Ministry of Foreign Affairs, Department of Agro-product Safety and Quality of MARA and the Center for Agro-product Quality and Safety of MARA; provincial governments of Yunnan, Shandong, Zhejiang and Jiangsu, etc.; agricultural research institutions and companies. Li Hongtao, Deputy Director-General of FECC, and Carlos Watson, FAO Representative to China, attended the symposium and delivered remarks.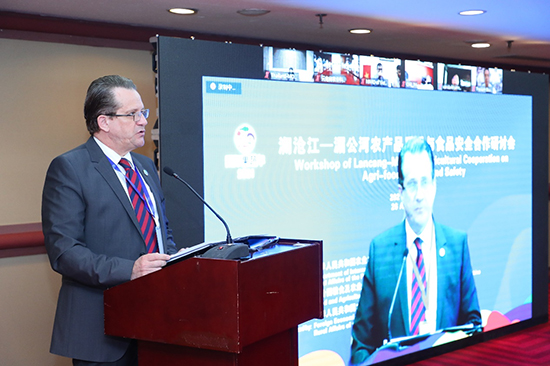 The symposium, themed on "Higher Fruit and Vegetable Quality—A Better Life for All," attracted representatives of various sectors to share their distinctive ideas. Focusing on efficiency, inclusiveness and innovation, experts and scholars held discussions and shared their experience in improving policymaking, standards, technologies, values, brands, and fruit and vegetable quality and safety.
Since 2021 is the International Year of Fruits and Vegetables designated by the 74th Session of the UN General Assembly, participants to the symposium highlighted that fruits and vegetables are key agricultural products of the Lancang-Mekong region. Therefore, the development of the fruit and vegetable industry is closely related to sustainable agricultural and rural development, as well as agricultural trade and investment in the region. Countries of the Lancang-Mekong region should step up cooperation in supply and value chains, and encourage innovation and cooperation, so as to secure fruit and vegetable quality and safety.
The symposium is a crucial step taken by MARA to implement the Three-Year Action Plan on Agricultural Cooperation (2020-2022), and promote cooperation in agro-product quality and safety in the Lancang-Mekong region.