Zhang Lubiao, Director-General of the Foreign Economic Cooperation Center (FECC), and Nigel Brett, Director for the Asia and the Pacific Division of the International Fund for Agricultural Development (IFAD), held a virtual meeting on March 3. They shared views on topics such as building a new type of China-IFAD partnership in the Post-COVID era. Li Zhiping, Deputy Director-General of FECC, and Ron Hartman, Director of Global Engagement, Partnerships and Resource Mobilization Division of IFAD, attended the meeting. Directors of eight IFAD country offices, including that in China, Pakistan, Mongolia and Indonesia, and about 30 FECC representatives, including heads of the Division of International Organizations, Foreign Aid Division, Investment Promotion Division, and Division of Asian Cooperation, participated in the meeting.
Director Zhang introduced the structure of FECC, its main functions and priorities. He said that IFAD is the only international financial institution of the United Nations dedicated to agricultural development, rural transformation and food security, and has rich experience in agricultural investment. China is implementing its rural revitalization strategy across the board. FECC is ready to support IFAD in preparing its new strategy for China at the top-level, and share with IFAD China's experience in agricultural aid and South-South and triangular cooperation (SSTC). China is ready to establish new-type partnerships with countries of the Asia Pacific region in the fields of investment promotion, digital agriculture and policy dialogue, and work with them to implement cooperation initiatives. Director Zhang also invited IFAD to the World Digital Agriculture Expo to share its experience and practices in digital agriculture.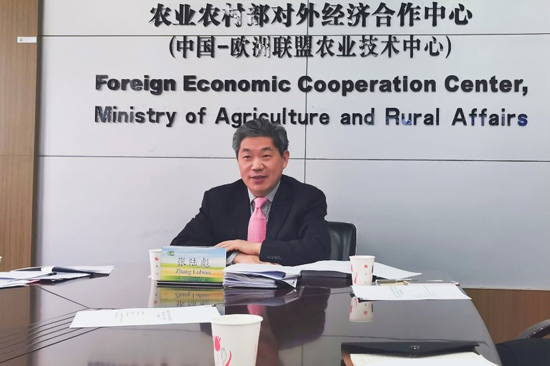 Mr. Brett said that the meeting laid a sound foundation for building an IFAD-FECC partnership in the new era. IFAD has developed long-term cooperation with a large number of developing countries in grants and loans, knowledge sharing, and experience and technology exchange. It recently built the Rural Solutions Portal, and a data platform for SSTC activities in the Asia Pacific region. IFAD hopes to work with China to promote pragmatic cooperation in digital agriculture, the agricultural value chain and investment by tapping each side's respective advantages.